In a couple of weeks I'm leaving this vast, beautiful island and my home for the last decade to return to the substantially smaller, wetter and greener one of my birth. This is for family reasons (lots of missed time over the covid years) and is thankfully not goodbye; my role has changed to accommodate remote work until next year and I'll hopefully retain a stake thereafter pending my eventual return down the track. Nothing is certain though, so it seems like an opportune time to take stock and appreciate this wonderful place and the adventures it has taken me on in work and life.
Work
A decade ago I was tired of corporate IT and the consultancy gig of always working on other people's problems. I wanted my own problems! I certainly didn't set out to enter the education world but when the door opened I walked through and never looked back. It's such a brilliant place to work if you're passionate about technology, with opportunity to create lasting impact and a community of supportive, like-minded IT professionals who are open in sharing their expertise and experience.
My early days in the role were filled with surprises (like the 'backup' Internet connection hard-wired to a server with open RDP 😨) but over time and with solid leadership support and a brilliant group of educators surrounding me, I've built a first-class IT operation in a college that has doubled in size to over 1,000 students and staff. I was glad of my background in Microsoft tech as we adopted M365, migrated on-prem infrastructure to cloud and rolled out Intune (back when it barely had two policies to rub together!). As we grew, we added to our team the exact right people and they've been an absolute blessing, helping scale up our operation to create more meaningful technology interactions, secure our endpoints and data and support widespread adoption of systems and practice across our academic and business departments. We've received national recognition from Microsoft for our efforts which is really cool (though more selfishly has given me lots of access to their people whose brains I pick on a regular basis).
The icing on the cake was last year when I was granted a full scholarship to a postgrad cybersecurity degree and supported to take up the workload on top of my day job. It was a stretch with a toddler and shift-working wife but so rewarding; I loved every minute of it as I could relate it practically to a great deal of my work and it's long been a fascination of mine, ever since the early days of the Security Now podcast. I guess that must have come through in my participation since I was awarded top marks in my year! It helped me further specialise in security within my current role (and boy is there ever a cornucopia of opportunities for that in an education context!) as well as inspiring me to shoot for a more fully security-focussed role in the future.
Life
Western Australia is a stunning spot to live, especially for those with a love of the outdoors. Here's some highlights (shot on iPhone & GoPro):
Perth city.
The Crawley boatshed.
The Perth Arena and Matagarup bridge.
They don't call it the sunset coast for nothing.
Dunes up north.
Trigg beach.
Swimming with turtles.
Deadly quicksand and smiling quokkas.
Biking in Wooroloo & Boranup.
Kayaking in the Canning.
Funny-looking pedestrians.
Cycling around the southwest coast.
A balga (grass tree) in the rain.
Fremantle port.
A banksia flower.
Most of all though, it's a cyclist's paradise. I've biked over 60,000km in my time here, as my Strava heatmap shows!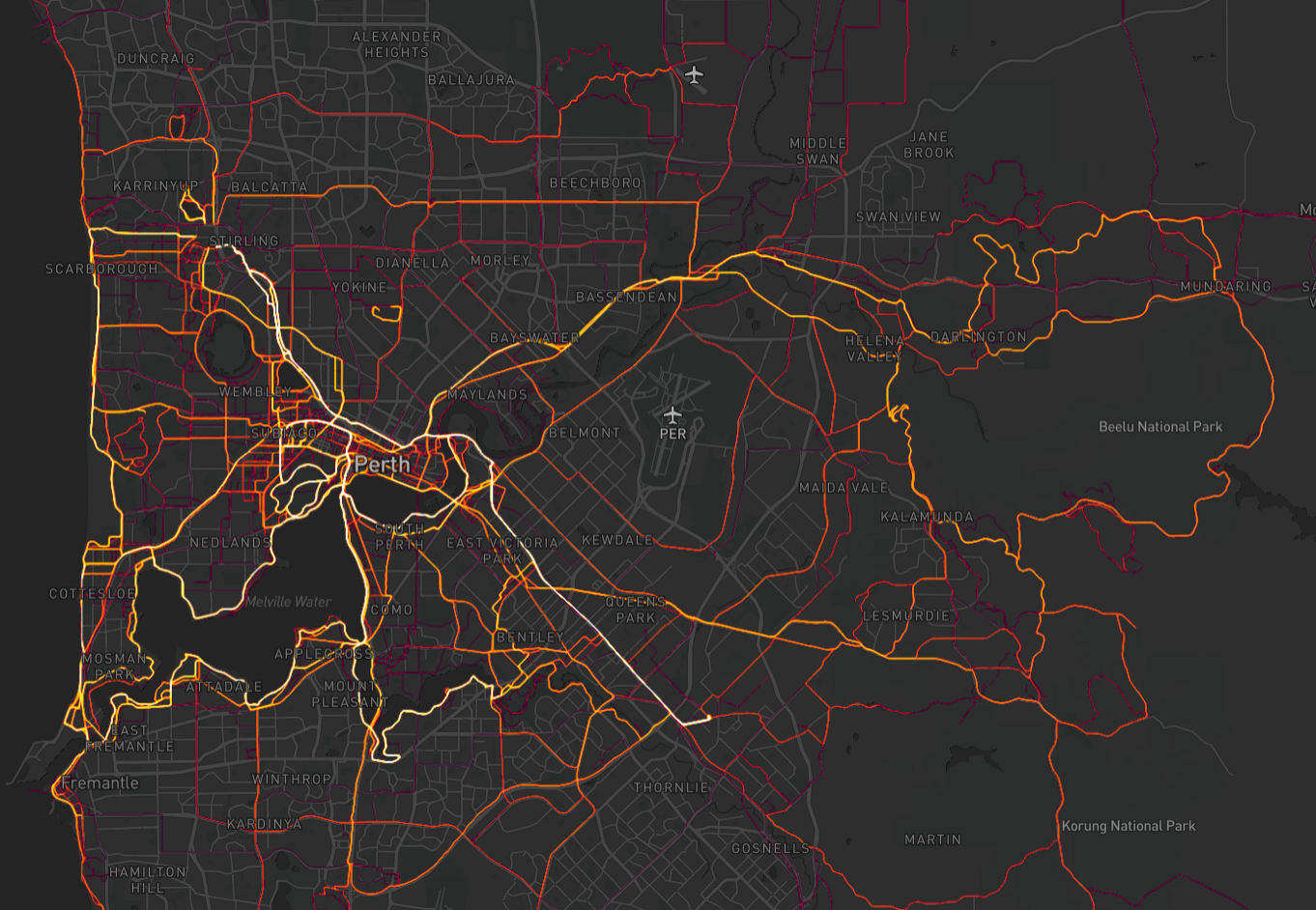 Farewell for now, Perth – I hope I'm back before I know it.